About Runninjacs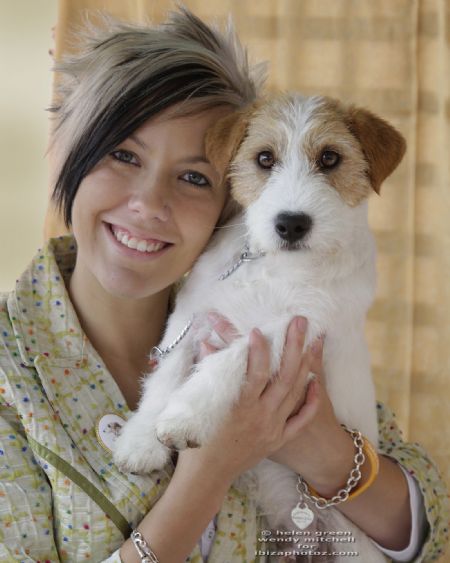 ABOUT ME:
Hi, my name is Kimberley and welcome to RUNNINJACS, the home of my Jack Russell Terriers. I am only a small kennel and only breed occasionally. I live in Melbourne, Australia. I show most weekends and have also do the occasional trip interstate to show, when not showing, I hang out with my friends and family.
How I Started:
Firstly, I would like to thank Curly and Pam Sullivan for the help they have given to me from the moment I got my first Jack Russell to helping me in my breeding program. In addition, thank you to the many people who I have met through showing and owning these feisty little critters and for sharing their knowledge with a youngster. I became interested in Jack Russell Terriers after looking for a breed that I could handle (at the time I was only 9 years old). We looked at a few different breeds (including pugs - just love them) and settled on Jack Russell Terriers. We talked to breeders at the show. My parents and I went to see Curly and Pam Sullivan of Baylock Kennels. I decided that I wanted a smooth coated dog to start with and in August/September 1996 I got my first Jack Russell, his name, Baylock Bianco, I called him Tazo. I spoilt him rotten, he went everywhere with me and we went to lots of shows, after being out of action for nearly 6 months due to an injury to his leg, he got over halfway to his championship, but he wasn't always comfortable with the show ring and I decided that showing wasn't for him, so we stopped, he really enjoyed racing and earth dog though. On the 25th February, 2006, he gained his Novice Earth Dog Title, unfortunately not long after (May 2006) he passed away - RIP my little man.
I was given another Jack Russell from Pam and Curly Sullivan in 2001, Baylock Cleo, I called her Cleo (of course). She has done very well in the show ring, with in group (all breed championship & open shows) and in show (breed speciality shows) wins, she became a champion soon after her first birthday. I have achieved my goal of attaining Cleo's Grand Championship and she has now retired from the show ring - even though she hates being left at home.
We bred Cleo and I thank them for all the help that they have given to me. Always important to me is the temperament and health of any dog that I breed. Both Cleo and Mooks have their EYE CERTIFICATES (certified CLEAR) and have had their patellas checked also (again CLEAR).
Cleo's first litter was to Ch. Baylock Jim Barry. For her second litter she was mated to Ch. Baylock Brew. Now also added to this mix is Runninjacs Man On Fire, Mooks, my first homebred youngster from this mating. Like his mother he has been doing very well in the show ring, many of his wins have been over mature and titled dogs, at the Heathcote Show he was awarded Runner Up In Group. On the weekend of 14th & 15th January 2006 my young man became an Australian Champion, at the age of 15 months, in only 9 months of showing.
Baylock Kara Kara (Prada) was mated to Mooks and in October 2009 she gave birth to a male puppy, who has gone to live with Teneal Harrison to be shown, he has been holding his own in the showring - winning Class In Group wins along the way.
Another addition to my kennels is a grandson of Cleo's, Baylock Master Brew (Ernie) from Ch. Runninjacs Man On Fire (Mooks) and Ch. Baylock Kapelvale (George). He is my youngest finished Champion to date. Ernie has been used at stud and has sired some lovely pups. Ernie was put to Prada and continuing the tradition we have a son "Phoenix" (Baylock Heart Of Fire), who stamped his paw marks in the ring like his dad.
All my Jack Russells are inside/outside dogs so that they have no fear of new or different things that they may come into contact with. From day one all of my puppies are raised and handled in our house so that they become used to the different noises and stimuli that goes on in daily life and are also introduced to the other animals in our yard at a suitable age.
I am looking to the future with my jacks in my life.
As you can see, in the following pages, Jack Russell Terriers are able to do many different things and enjoy themselves while doing it. I'm glad that I decided on getting a Jack Russell. My dogs have also done racing and earth dog, plus chasing those pesky birds from the yard which helps to keep their instincts sharp.
At the moment I am also President of our Jack Russell Terrier Club (Victoria) a role that I find challenging and enjoyable.
I hope you enjoy your visit, please take the time to sign my guestbook below to let me know how you enjoyed my site.
Kimberley
Contact Details
Kimberley Azzopardi
Llandilo, NSW, Australia
Email :
[email protected]